What is Art Clay?
The Art Clay series of products are made of pure metal powders mixed with non-toxic binders and water. When kiln, torch or stove top fired, the binders burn away, leaving pure silver (99.9% silver), pure copper (more than 99.5% copper), or gold (22K).
The Art Clay Range is easy to handle, and you can freely shape it just like with the modeling clay you used when you were a child. After firing at the proper temperature and holding time you will get a one-of-a-kind pure silver, gold, or copper piece .
The development process with Art Clay!
Clay Form

Clay contains fine silver powder, water, and binder. Can be formed while still soft.

Drying

Moisture in the clay dries out, and the clay gets harder.

First stage of Firing

Binder burns away, and fine silver powder starts the sintering process.

Completely fired

Silver particles solidify completely, and become more than 99.9% pure silver.

Forming

Trimming Drying

Firing

Finishing
Art Clay is ACMI approved!

The AP (Approved Product) Seal, with or without Performance Certification, identifies art materials that are certified safe for use in an extensive toxicological evaluation by medical experts to contain no materials in sufficient quantities to be toxic or injurious to humans, including children, or to cause acute or chronic health problems. This seal is currently replacing the previous non-toxic seals: CP (Certified Product), AP (Approved Product), and HL Health Label (Non-Toxic) over a 10-year phase-in period. Such products are certified by ACMI to be labeled in accordance with the chronic hazard labeling standard, ASTM D 4236, and the U. S. Labeling of Hazardous Art Materials Act (LHAMA). Additionally, products bearing the AP Seal with Performance Certification or the CP Seal are certified to meet specific requirements of material, workmanship, working qualities, and color developed by ACMI and others through recognized standards organizations, such as the American National Standards Institute (ANSI) and the American Society for Testing and Materials (ASTM). Some products cannot attain this performance certification because no quality standard currently exists for certain types of products.
For more information on AP seal and ACMI, please visit the ACMI website at:
http://www.acminet.org/safety.htm#three
Art Clay Silver Series
Art Clay Silver series can be fired at 650℃ / 1202˚F. The low-fire characteristic makes it easier to enjoy creations with different craft materials. The fine ground silver powder is a unique component to Art Clay Silver that enables you to finish your piece with a beautiful shiny silver surface.
| | | | | |
| --- | --- | --- | --- | --- |
| Art Clay Silver | Art Clay Silver Paste Type | Art Clay Silver Syringe Type | Overlay Silver Paste | Art Clay Silver Oil Paste |
Art Clay Silver Slow Tarnish Series
A piece made from ST can maintain its shine even longer with regular jewelry cleaning. The ST series product is more than 99% pure silver after firing.
| | | |
| --- | --- | --- |
| Art Clay Silver ST Clay Type | Art Clay Silver ST Paste Type | Art Clay Silver ST Syringe Type |
Art Clay Gold Series
Gold Paste can be applied on porcelain or glass surface as decoration. Gold clay is a water-based gold clay that can be modeled in the same way as the other clay series. It will transform to high quality 22-Karat gold after firing.
| | |
| --- | --- |
| Art Clay Gold Paste Type | Art Clay Gold |
Art Clay Copper
Working with copper provides jewellery artists a new pallette of colours, as well as a low-cost material idea for creative experimentation! Combine copper and silver materials to produce stunning Japanese Mokume-Gane style jewellery and artworks without the intensive labour of the traditional Mokume-Gane process!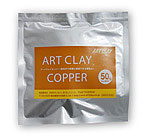 Art Clay Copper