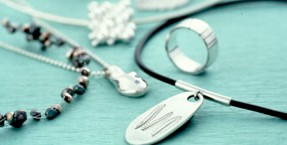 A revolutionary material for jewellery artists!
Art Clay Silver is a pliable, aqueous solution of pure silver that may be manipulated like clay and transforms into pure silver when fired at high temperature with an electric kiln, gas torch, or on a gas stove. Art Clay is available in Fine (pure) Silver, 22K Gold, Non-tarnish Silver and Copper forms...
Now anyone can easily create one of a kind silver jewellery without the need for traditional bulky and expensive jewellery equipment!